Alloy Wheel Refurbishment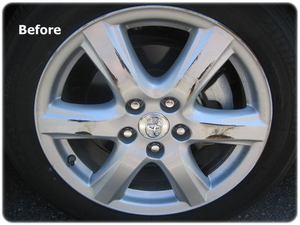 Alloy wheels look great when new, but kerb damage and general wear and tear will quickly ruin their appearance.
Scuffed or scratched alloy wheels are not only unsightly, but if left unattended (especially over winter) they can corrode, requiring the wheel to be replaced. Replacing factory fitted alloy wheels can be very expensive, so it makes sense to contact an alloy wheel refurbishment specialist soon after the damage occurs.
Alloy wheel repair process varies depending on the extent of the damage and the wheel's finish. In general, the damaged area is sanded or machined out, and where necessary, special alloy wheel filler is applied. The wheel is then primed, and one of the many silver wheel finishes is spayed on, followed by a coat or two of clear thick lacquer. The alloy wheel is then baked dry to a hard durable finish. Alloy wheel refurbishment times can vary, but in general, take between 1.5 and 2.0 hours.
Most wheel finishes are repairable, including the 'special silvers', ask us for more details.
Our prices are as follows:
Wheel Size

Cost
Up to 17 inch

from £45
18 ich -19 inch

from £65

20 inch or above

CALL US